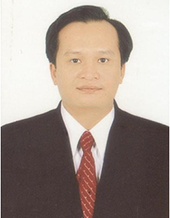 General information
Mr. Chu Minh Duc is the key partner of Intraco Law Firm, Mr. Duc has an intensive experience of praticing law for more than 12 years specializing litigation, debts collection, banking and finance, real estates development. Mr. Duc has gained a greated appreciation and reputation from Banks especially State bank of Vietnam, real estates investors and other business sectors. Besides, after years of litigatin processing, Mr. Duc has also built a strong relation and understanding with competent agencies in charge of case proceedings. The following are some key legal fields wherein Mr. Duc is practicing in:
Expertise Details:
Banking and Finance: Mr. Duc has been assists banks in protecting their rightfull interests in courts which related to debts solvings and other investment conflicts.
Litigation: This is the major field of Lawyer Chu Minh Duc. He has involved in complicated and big cases like Thang Long Water World case, a corruption cases related to officials at Ministry of Agriculture and Rural Revelopment and other economic criminal cases related to An Binh bank, Que Do Bank and Viet Hoa Bank.
Debts collections: one the strong expertise of Mr. Duc is debts collection. Mr. Duc has sucessullly helped clients in solving their big debts saving much of their surviving chance and liquidity situtation such as Hoa Phat group (2 millions USD debts), Post Financing Co., Ltd (3 millions USD debts), Water Supply and Drainage Company (Ministry of Construction) – 4 millions USD debts). Mr. Duc possesses a great sense and experiences of debt solving including debtor intelligence, debtor negotiations, debtors warnings, litigation proceeding, emergency measures applications (bank account freezing, assets seizing and liquidation), Court verdicts enforcements
Real Estates and infrastructures: Some remarkable projects Mr. Duc has been assisting is preparing all dossiers and making all contracts related to investment certificates, land clearance and land leasing of a huge project of Phu My 3 Industrial Zone – Ba Ria Vung Tau Province with the size of 1000 ha and invested capital of 5000 billion dong (300 million USD equivalent). At this project, Mr. Duc palyed a key role of standing consultant in charged of all-round and multi-tasking works from A to Z such as all dossier submitted to state agencied for approval, land clearance including dealing with farmers in land acquisition process and dealing with many contractors in the industrial zone infrastructure development. Mr. Duc has gained absolute confidence from Investors in this project basing on the outstanding result of the industrial zones. Besides, Mr. Duc also helped Falcon Shiping in their investment procedures related to a port with total investment capital of 50 million USD or other deal of Germadept to accquire a big piece of land for warehouse development.
Investments: Mr. Duc has helped many local and foreign investors in their investment studies and procedure to set up their business in Vietnam. Some major projects in which Mr. Duc has involved are setting up a hospital with 300 beds in Hanoi City, a mineral projects worth millions of dollars in Binh Thuan Province
Education and Trainings:
–    Lawyer Professional Practising Certificate (2005)
–    Hanoi University of Law – Bachelor in Business Law (1995-1999)
Membership
– Member of Vietnam Lawyer Association
– Member of Hanoi Bar association
Contact information
– Office: INTRACO LAW FIRM, No. 413, 4th Floor, B15, Dai Kim – Dinh Cong, Hoang Mai Dist, Hanoi.
– Tel: +84 4 628 42684/5
– Cell: +84 904 118 206
– Fax: +84 4 628 42686
– Email: duc.chu@intracolaw.com.vn
INTRACO LAW FIRM
Mobile/Whatsapp: +84913059573
No. 413, 4th Floor, B15, Dai Kim – Dinh Cong
Hoang Mai, Ha Noi, Vietnam
Tel: 84-24-62842684/5; (ext: 101)
Fax: 84-24-62842686;
Email: 
main@intracolaw.com.vn
Skype: hoangdunglawyer