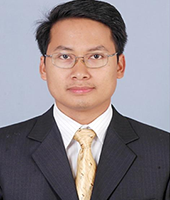 LAWYER DANG HOANG DUNG (MR.)
General Information
Mr. Dang Hoang Dung is the founder and managing partner of IntracoLaw. He is responsible for the overall operation of the firm. Prior to this position, Mr. Dung had been in charge in a number of key positions like Deputy Director of IP Division of InvestConsult Group, Head of Legal team in northern area of a S-Telecom and main in-house legal counsel to a giant real estate developer of Network Trading and Investment Cooperation.
For more than twelve years of practicing law, Mr. Dung has gained in-depth and profound experiences in many fields of law practicing in Vietnam such as intellectual property (IP right establishment and anti-counterfeiting and ip infringement), investment consultancy (business cooperation, firm establishment, incentives), corporate laws, corporate and shareholder relations, telecommunications, international trade, site acquisition, labor matter, financial investment, real estate and construction. His services and advice has gained reputation and appreciation from clients through many successful cases over decades.
Expertise detail
Intellectual Property: Mr. Dung is in the group of limited number who are officially registered and agreed by Vietnam National Office of Industrial Property to be an industrial property agent which is allowed to represent clients worldwide in terms of processing all the matters related to industrial property in Vietnam. In his career up to now, Mr. Dung has been successfully dealing with many matter related to ip matter such as ip right establishment (trademark, invention registration, search and ip consultation), appeal and opposition, trademark monitoring, trademark licensing and franchising, ip anti counterfeiting and infringement. Mr. Dung possesses a acute sense of imitation products especially in the fields of pharmaceuticals, chemical, clothing and apparels of which he has gained many appreciation and thanks from victims. Mr. Dung has successfully solved many cases related to ip infringement in Vietnam such as conducting a raid on a shop selling imitation bags, stop the very first cross-border ip infringement case by coordinating with customs office in Vietnam in seizing an infringing stationery consignment exported from India to Vietnam.
Investment: Mr. Dung has been advising to many cases of investment such as establishment of a training school or a hospital in Hanoi City, setting up a project to acquire land to build up a hotel in Hochiminh City, prepare all kind of documents to obtain a land use right of 20 ha in the West of Hanoi for setting up an urban area for an investor. In a special case Mr. Dung is the person representing the investor in deciding all the matter of setting up a mould manufacturing factory in Hai Duong Province. Besides proceeding administrative procedures in terms of investment, Mr. Dung has been also involving in cases related to setting up working frames between parties through business charter or cooperation contract in each project. At each project the investors are given concrete and clear advice on the roadmap ahead identifying what is secured and what is the risks with measures to be taken.
Real estates: This field is one of those strong profession of Mr. Dung. Besides helping investors in developing their real estate projects, Mr. Dung also advises them in acquiring or selling the project and proceed the procedure thereof. Major cases of real estate transferring are 8 mil USD transfer of General Services Building from Housing Renovation and Development Company, the acquisition of a very ideal site for retail chain development in Thanh Hoa province also worth millions USD.
Constructions: Mr. Dung has an intensive experience in dealing with construction matter ranging from administrative procedure like obtaining desirable land use coefficient, land use density, the building height and number of floors to construction contract (Mr. Dung is familiar to Fidic) with architects, civil contractors …. Mr. Dung has involved in dealing with architectural contract with Nihon Sekkei on designing a complex at Pham Hung road, Hanoi city which worth millions USD. Mr. Dung has also assisted the other architect of Finenco Engineering in drafting designing contract to convert a ship into a floating hotel which also worth millions of USD.
Corporate: Mr.Dung is currently helping a number of enterprises in dealing with their daily operation whenever legal help is needed. Each company is being given advice on their charter, their structure to purchasing or selling contracts or administrative procedures they might have to overcome.
Mergers and acquisitions: In the past few years, with the trends of Vietnam market, M&A is a strong tier and a busy part in the time schedule of Mr. Dung. He has dealt with number of cases related to M&A ranging from legal advising on due diligence process to prepare transferring documents and proceed the registration with state competent agencies. Some remarkable projects of M&A Mr. Dung has been advising and proceeding procedures are the acquisition of a company located in Hanoi downtown which worth tens of millions USD, the acquisition of Mirolin company manufacturing household product, the acquisition of a auto spare part manufacturing company in Hung Yen province.
Financial investment: Mr. Dung has advises cases related to related to share buying, transferring, repo, drafting contract and proceeding legal procedure related to loan and financing activities. Through this way, Mr. Dung has help investor to invested in many other project like banking, energy, transportation, real estates, food processing, golf & resorts … Mr. Dung has ensured the legitimacy of share holder as well as comprehensive legal ground for each projects.
International Trade: Vietnam international trade has been booming for decades and Mr. Dung has been also in the trend. Many clients has been given advice by Mr. Dung on the matter of international trading contract ranging from purchasing, production line selling, import and export procedure, state regulation on specific products, trademark licensing, distribution right, import and export right, free trade area.
Dispute Resolution: This is the strong field that Mr. Dung is enthusiastic to be involved in each conflict case. Mr. Dung has represented many local clients before provincial court, Hanoi Court and Supreme court related to the matter of management board conflict, contract dispute, labor dispute. Mr. Dung also participated in international dispute, he has successfully helped a local client won a case against a defendant of a Malaysian firm before Vietnam International Arbitration Centre (VIAC) and successfully enforced the arbitration award in Malaysia. Another case at VIAC, Mr. Dung has help a local buyer to stop L/C payment due to poor quality of purchased products examined at arrival port. Mr. Dung also represented a local firm in a dispute case of purchasing scraps before the arbitration tribunal at ICC with the total contract value of 900,000USD.
Chemical products: Chemicals especially those are sensitive to environment and human health need extensive care. Mr. Dung has been advising chemical manufacturing such as Dow Chemical, Rohm and Haas and trading company in chemical regulation, registering and declaring the products at state competent agencies.
Education and Training
– Lawyer Professional Practice Certificate (2007)
– Industrial Property Agent License (2010)
– Hanoi University of Law – Bachelor in Business Law (1995-1999)
– Hanoi University of Foreign Study – Bachelor in English (1996-1998), excellence in English.
– Certificate of Copyright Training Course (2002)
– Securities profession practice certificate (2000)
– Customs procedures practice (1999)
Membership
– Member of Vietnam Lawyer Association
– Member of Hanoi Bar association
– Vietnam Industrial Property Association
– Inter-pacific Bar Association
Publication
– Editor in chief of the book Investment in Vietnam made out for foreign (Italian investors) under the order of Italian embassy in Hanoi (reference Mr. Carlo Bartoli – Deputy Head of Mission cum commercial attaché)
Contact information
Office: INTRACO LAW FIRM, No. 413, 4th Floor, B15, Dai Kim – Dinh Cong, Hoang Mai Dist, Hanoi.
Tel: +84 4 628 42684/5 ext: 101
Cell: +84 9 130 59573
Fax: +84 4 628 42686
Email: main@intracolaw.com.vn
INTRACO LAW FIRM
Mobile/Whatsapp: +84913059573
No. 413, 4th Floor, B15, Dai Kim – Dinh Cong
Hoang Mai, Ha Noi, Vietnam
Tel: 84-24-62842684/5; (ext: 101)
Fax: 84-24-62842686;
Email: main@intracolaw.com.vn
Skype: hoangdunglawyer